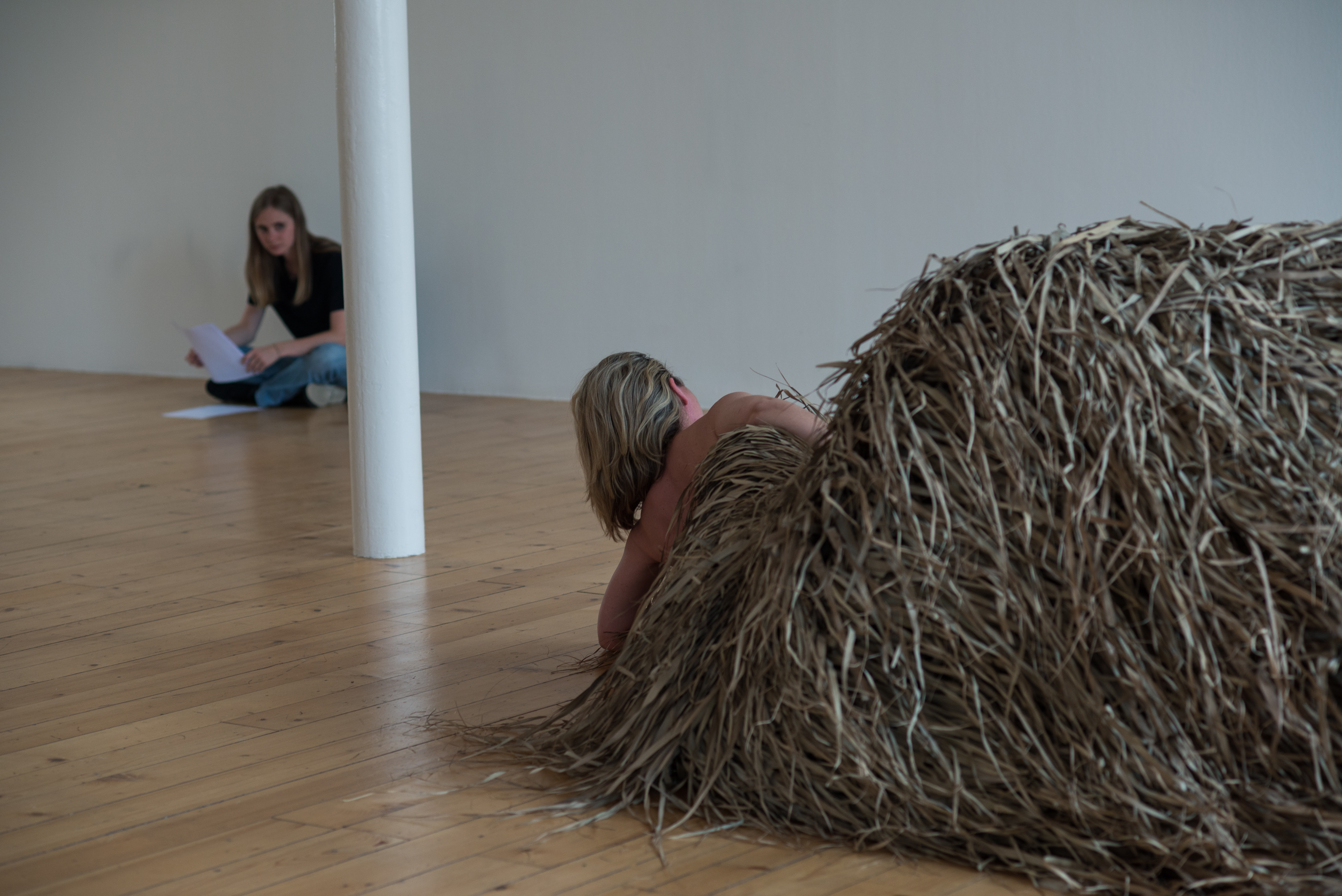 The performance Shelter_Refuge by Georgia Sagri takes place every day in Friart between June 15 and June 23.
"Performance as a medium is an intervention, like a pharmakon, that radically modifies the functioning of the body, inaugurating a new relationship with representation." – Georgia Sagri, Stage of Recovery, (Divided, 2021), p. 79
With contributions by 
16 June 2022 
Delphine Chapuis Schmitz lives in Basel. She explores ways of making sense and the poetic potential of language(s) from a transdisciplinary perspective. Her writings take shape in performative readings, installative environments, as well as (online) publications. She is the editor of DEARS, a magazine for transversal writing practices, works as a translator, and has collaborated on numerous publications, in both in the academic and artistic fields. She is a tenured lecturer at the Zurich University of the Arts. 
18 June 2022 
Martina Buzzi works under the name Harmony. She lives and works in Zurich and has studied fine arts, electroacoustic composition and Chinese medicine. She has exhibited and performed at NAC Lithuania; the Architecture Biennale São Paolo; UG at Folkwang; VOLUMES at Kunsthalle Zurich; Upstate, Zurich; Les Complices, Zurich; Cabaret Voltaire, Zurich; Caravan at Kunsthaus Aarau; Alpina Huus, Geneva; and Kunstraum Klingenthal, Basel. 
19 June 2022 
Lara Dâmaso, artist and performer, lives in Zurich. Her work exists in the form of live performances, videos and audio works. Her work has been presented in various institutions, off-spaces and festivals, including Istituto Svizzero Milano, Milan; Les Urbaines festival, Lausanne; MASI, Lugano; Kunsthaus Langenthal; Centre d'Art Contemporain Genève, Geneva; Kunsthalle Zurich; Cabaret Voltaire, Zurich; and Kunsthalle Bern. She is an associate artist at Theater Gessnerallee in Zurich.
22 June 2022 
Arianna Sforzini, a researcher in philosophy and aesthetics, teaches political humanities at Sciences Po Paris. She works as a psychologist and psychotherapist. She is the author of Les Scènes de la vérité: Michel Foucault et le théâtre (Le Bord de l'Eau, 2017) and Michel Foucault: Une pensée du corps (Presses Universitaires de France, 2014). Her research focuses on Michel Foucault's thought, the history of human sciences and contemporary continental philosophy, particularly in its relationship to the arts and the performances of the body.
Reading by Virginie Sistek.